Home
>>
Fashion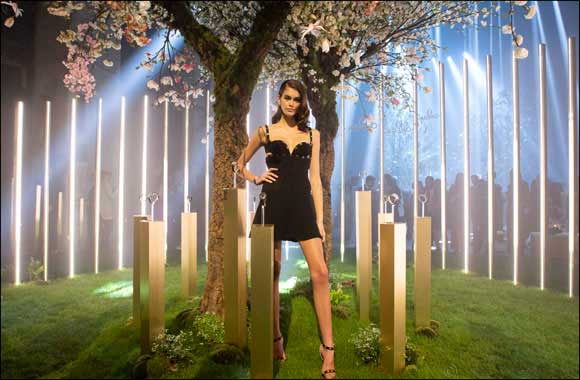 Elegance with an Edge
May 08, 2018 - Dubai, UAE: OMEGA's face of Trésor, Kaia Gerber, introduces an emerging generation to a reimagined classic, at an extraordinary event in Berlin. Though deeply-rooted in Swiss watchmaking tradition, OMEGA is a brand forever on the move and unafraid to take risks. This year's thoroughly-modern makeover of the classic Trésor is a perfect example of OMEGA's willingness to embrace the new.
In line with the 2018 collection's sleek contemporary design, OMEGA hosted a very different kind of celebration: a flying dinner in Berlin, with a touch of industrial chic. The very untypical event, hosted by TV presenter Viviane Geppert, was attended by a star line-up of guests, including German model Toni Garrn, actor Thore Schölermann, actresses Hannah Herzsprung and Jana Julie Kilka, swimmers Filippo Magnini and Pernille Blume - and a host of world-renowned influencers.
The guest of honour for the evening was a star with her own unique take on luxury – Kaia Gerber.
For the Trésor event, the stark concrete interior of Berlin's Kraftwerk was transformed into a space filled with light, music and magic. As a straight path to the diamond-paved watches would have been a little too easy, the evening began with a pre-dinner challenge. Guests entered the exhibition space through a specially constructed maze, with various rooms leading off to surreal fairy tale scenes, fun photo opportunities and all sorts of weird-yet-wonderful distractions.
Welcoming guests to the event, CEO and President Mr. Raynald Aeschlimann praised OMEGA's watchmakers for their 'refreshing and original take on a classic timepiece' and spoke highly of Kaia Gerber's enthusiasm and professionalism. 'We're thrilled that Kaia is a part of the OMEGA family. It's impossible to imagine a more perfect face of Trésor. Her career has only just begun and already she has displayed an astonishing level of cheerfulness and maturity in the face of so much global attention'.
Kaia Gerber spoke of her pride at being chosen as the face of Trésor. "Like a lot of young women of my generation, I love the vintage look. OMEGA's new watches have that classic style, but with very cool, modern touches. As a model I get to wear a lot of beautiful clothes, but I'm most comfortable in jeans and sneakers and what I love about these watches is how they go so well with both looks".
The new Trésor collection offers a classic design with a truly modern edge. Each model is distinguished by its thin case, available in either 39 mm or 36 mm sizes. In all models, diamond paving curves along each side of the case and a single diamond is set within the crown. OMEGA has also added a flower on each crown, created out of five OMEGA logos in red liquid ceramic. The timepieces are noticeable for their transferred or embossed Roman numerals, which elegantly circle the dial. On each Trésor model, OMEGA has included a special mirrored caseback with a 'Her Time' design.
In addition to the nine Trésor timepieces presented from the main collection, OMEGA unveiled three new 36 mm jewellery pieces, especially for the occasion, which will be available in boutiques from October: a bold red Garnet model, a watch in OMEGA's own 18K Canopus™ gold; and a Trésor jewellery timepiece in blue aventurine.
Home
>>
Fashion Section