Home
>>
Entertainment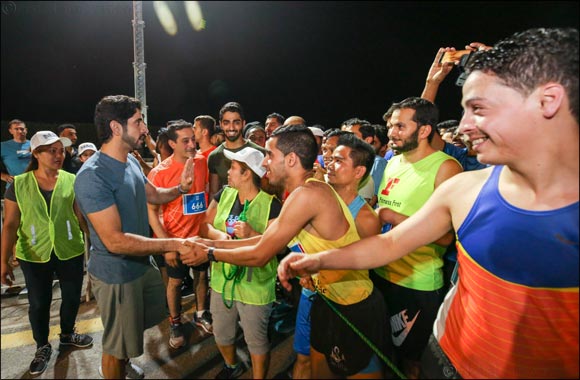 Sheikh Juma launches his Asian Games preparations with NAS Run
Dubai, UAE, May 22, 2018: Sheikh Juma Dalmook Al Maktoum, winner of the Double Trap silver medal at the 2010 Guangzhou Asian Games, tested his physical readiness for the 2018 Asian Games on Monday night by taking part in the Nad Al Sheba Sports Tournament's 10km Run.
With His Highness Sheikh Hamdan Bin Mohammed Bin Rashid Al Maktoum, the Crown Prince of Dubai and Chairman of Dubai Sports Council, greeting the participants at the start and cheering them through the race from an open-top jeep, more than 1,500 runners took part in the 5km and 10km Run, crossing the finish line in the wee hours at the Nad Al Sheba Complex.
Sheikh Ahmed Dalmook Al Maktoum and Sheikh Hamad Dalmook Al Maktoum – both brothers of Sheikh Juma –also took part in the race, along with Sheikh Rashid bin Ammar Al Nuaimi, Sheikh Humaid bin Ammar Al Nuaimi and Sheikh Abdullah Bin Majid Al Nuaimi.
"First, I wish to thank Sheikh Hamdan for his great initiative, which encouraged us to take this opportunity," said Sheikh Juma, who is preparing for the 18th Asian Games, which will be held in the Indonesian capital of Jakarta and Palembang from August 18 to September 2.
"We are really happy to complete the race despite the heat. Shooting is not just about precision and hitting targets – you also need to be very fit physically and be sharp mentally. So this was a good way of testing our physical condition.
"I am taking part in the Asian Games and soon we will launch an intensive preparatory programme to make sure I am fully ready once the Games start in August. We will launch our preparations next week and I am considering if I should take part in the Grand Prix in Austria or continue with our preparations at home. We will also organise an outside camp before the start of the Asian Games.
"It's hard to predict what might happen in shooting. We're preparing ourselves, but others are getting ready too. We also do not know what conditions we're going to shoot in. But what we can promise is that we will do everything we can to keep our flag flying high at the Asian Games."
RESULTS
Women's Professional 10km: Berhan Gebremichael 38:46, Latifa Essarok 39:45, Amina Mhih 41:40
Men's Professional 10km: Anouar El Ghouz 29:15; Ahmed Tamri 29:29; Samir Jouahar 29:36
Women's Open 10km: Belainesh Yami Gurmu 36:20; Lamure Myriam 39:51; Katy Haallside 39:57
Women's Open 5km: Sarah Faraidooni 23:07; Asma Al Janahi 28:08; Shaikha Buasaiba 29:11
Men's Open 10k: Ismail Ssenyange 30:53; Filipe De Azevado 33:02; Paul Muturi 33:29
Men's Open 5km: Ali Hasan Al Murawwi 18:46; Matar Balobaida Al Mheiri 18:49; Abdallah Youssef Al Hammadi 18:54
People of Determination 5km: Hareb Mohammed Anbar 27:26; Khaled Ali Ziad Al Shehi 30:18; Osman Adil Abbas Mohammed 30:31
BASKETBALL
In the NAS 3x3 Basketball Championship, Al Nasr defeated Sharjah Ladies Club 11-5 to clinch the women's title, while GEMS took the Junior Girls' crown, edging Rim Rockers 10-9 in the final.
Sharqiya finished third in the women's competition defeating Sharjah Wusta 13-10, while Jam Warriors cruised to a 9-2 win over Victory in the Junior Girls' playoff for third place.
"We participated in this tournament with only one goal in mind – to win the title, and I am proud of the players for achieving that goal," said Hala Shehadeh, the Al Nasr coach. "We approached every match with the sole purpose of winning and, without meaning any disrespect to the other teams, we are deserving winners of the first-ever NAS 3x3 Basketball women's title.
"Taking part in this tournament is a great way to prepare for the upcoming season and, of course, winning the title is a big boost for everyone."
FENCING
Sharjah Ladies Club's Latifa Al Hosani will clash with Baniyas' Shoug Hamad in the final of the Women's Individual Foil for Locals after defeating Tunisian Azza Besbes 15-8 in the semis. Hamad prevailed 15-7 over her Baniyas compatriot Ashwaq Al Messabi in the other semi-final.
The Baniyas fencers also dominated the Men's Individual Foil for Locals category, with all four semi-finalist belonging to the Abu Dhabi club. In the final, Hamad Al Jallaf will meet Abdulrahman Haffour, who defeated Nahyan Al Azazi 15-8. Al Jallaf beat Khalifa Al Zarooni 15-11 in the other semis.
In the Men's Epee International, Iran's Mohammed Rezaei will battle Dutchman Randy Postma for the gold medal. Postma defeated another Iranian, Mohammed Ali Keyhani, 15-10 in the semis, while Rezaei prevailed 15-12 over Kazakhstan's Elmir Alimzhanov.
Organised by Dubai Sports Council (DSC) under the patronage of His Highness Sheikh Hamdan Bin Mohammed Bin Rashid Al Maktoum, Crown Prince of Dubai and Chairman of Dubai Sports Council, the 2018 NAS Sports Tournament will see more than 5,000 athletes compete for a total prize-purse of Dh6 million in Dubai, across 11 competitions.
The tournament has also gone international this year with a five-a-side futsal competition taking place in the Egyptian capital Cairo and an eight-team volleyball tournament being held in Amman, Jordan.
Home
>>
Entertainment Section