Home
>>
Fashion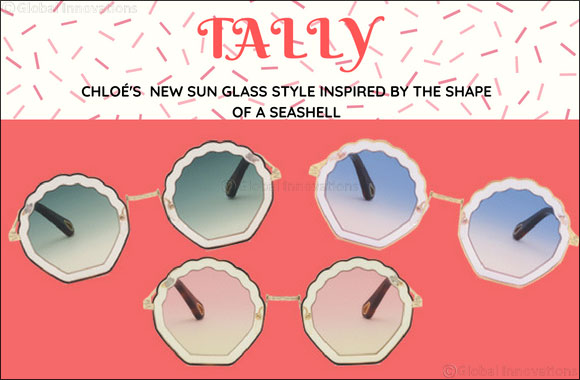 Chloé Introduces "tally," the New Sunglass Style Inspired by the Shape of a Seashell
The effortless spirit of Chloé infuses the latest introduction to the brand's eyewear collection.
Dubai, UAE, July 31, 2018: Elegant and playful and entirely crafted from thin metal, this unique double-lens frame features a glamorous front structure which recalls the shape of a delicate seashell. A shiny gold filament is wrapped around the distinctive lenses, which are then joined and perfectly matched together using a reverse bevel technique to create the effect of a single lens.
The artisanal flair of this design is further emphasized on the two 80's inspired Havana styles which are enhanced with a metal foil applied meticulously by hand to the frame front.
Each style is also adorned with the filigree pattern, exclusive to Chloé, which subtly extends from the bridge to the lightweight temples, adding a unique vintage touch.
The frame is completed with the signature, metal teardrop cut-out on each of the temple tips, which serves as a functional embellishment to attach the optional chain accessory. The Chloé logo is discreetly lasered on the top of the left wearing temple.
Available in Gold Light Pink/Gradient Blue, Gold Azure/Gradient Burnt, Havana Rose/Gradient Green and Havana Sand/Gradient Rose.
Home
>>
Fashion Section