Home
>>
Technology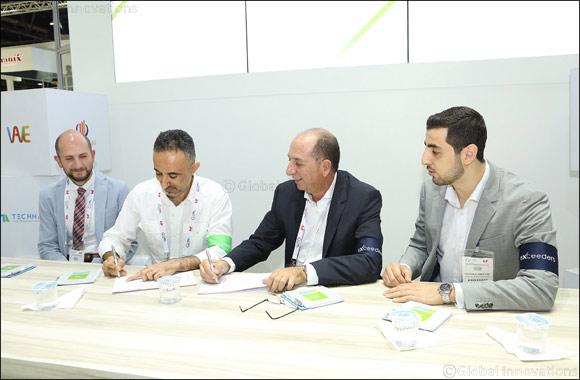 Exceeders Signs Strategic partnerships with leading IT solutions providers in Dubai
Dubai, 25 October, 2018: Bringing the 'sharing economy' business model pioneered by some of the most successful present-day businesses like Uber and Airbnb to the power the Information Technology (IT) services industry in the region, Exceeders made new pathways to connect multiple specialised companies to provide comprehensive IT solutions and changed the strategy of IT providers in their partner to partner (P2P) ecosystem, from 'compete to complete'.
Given the fact that the UAE is one of the leading IT hubs not just on the MENA and GCC regions but arguably one of the most advanced worldwide, Exceeders'
'complete rather than compete' model empowers companies to enjoy a win-win scenario at all times by benefitting from the principles of sharing economy.
These advantages have attracted over 50 companies in the UAE and beyond into the Exceeders P2P ecosystem, and the company continues to expand its network with 11 new Strategic partnerships with leading information technology (IT) solutions providers in Dubai.
"Exceeders is a community that connects multiple specialised companies to offer comprehensive solutions. Through our P2P ecosystem, based on symbiotic relationships where we win or lose together, we are changing the strategy of IT providers working with us from 'compete to complete', which has a ripple effect of benefits that cover our clients as well as our partners."
Exceeders partners list expands with the following companies among others:
Zayani Infosystems, a customer-centric ICT service provider from Bahrain established over 30 years ago;
Jeddah-based Al Nafitha, who bring in their experience of designing customised IT solutions for a 2,000-plus customer base; followed by one of the market leaders;
AlMoayyed Computers, an IT and telecommunications solution provider, headquartered Bahrain whose existing partners include the likes of EMC, Cisco, McAfee, Amazon, Motorola, and others;
Ahmad Chayati, Founder and GM - Exceeders explained: "Khalil Gibran once said, 'Work is love made visible'. I'm a huge believer in this, which is why my constant pursuit is to bring back joy and excellence to the corporate world. In recent years, things have become more difficult between partners, customers, and vendors. We were continuously expending energy to firefight, which took all the joy away from work. At Exceeders, we all align under a common goal and work as true partners.
Our main objective is to bring our partners together to provide higher quality services and products to customers. "Our Channel Partners get to do what they do best – focus on customer experience, while service providers focus on quality solutions, and software vendors get to improve their products. Our increasing range of provisions is expanding, alongside our professional and business services competencies with major tech-giants as vendors, given all our partners' capabilities are being utilised fully in the expansive Exceeders framework – this is what Exceeders is giving to the world! A chance to be recognized and a chance to grow!" he added.
Home
>>
Technology Section