Home
>>
Entertainment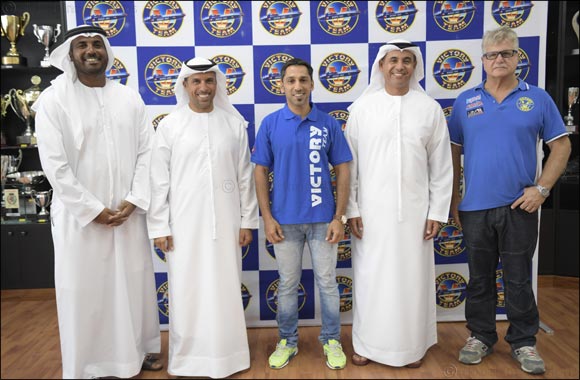 Victory Team aiming for consistency in UAE F1 rounds
Victory Team drivers will be going all out in search of some consistency as they try to make their way up the standings as the 2018 UIM F1H2O Powerboat Championships comes to a conclusion in the UAE during the first half of December.
Dubai, UAE, December 05, 2018: Team Abu Dhabi's Shaun Torrente is the all-out leader heading into this weekend's Grand Prix of Abu Dhabi (December 6-8) followed by the traditional season-ender – the Grand Prix of Sharjah to be held on the Buhairah Corniche from December 13-15.
With the last two races left, Torrente leads the championship standings on 72 points from Stark on 65, Al Qamzi remains on 54, while Peter Morin the closest challenger in fourth with 39 points. Victory Team's aspirations for challenging for the title this season got a setback from the start with mechanical problems.
At the moment, Ahmed Al Hameli is the closest in the race for top honours as he chases in eighth overall with 18 points, while four-time defending world champion Alex Carella rues a year to forget in eleventh place with nine points that he won in the opener in Portimao, Portugal.
"Everything has been new for us this year starting with brand-new boats and new drivers at the helm. So naturally, we expected to take our time to get used to these new situations. Our drivers have always been up to it and tried their best to bring in the results," Huraiz Bin Huraiz, Chairman of the Board of Directors at Victory Team related.
"It's all in our hands now. We have had issues that are normal with the building up of any team in any sport. That said, we are hopeful of a future that can kick-start from the 2019 season," he added.
For the time-being, it is Team Abu Dhabi that has been the dominant force in F1 with the outfit operating from the Abu Dhabi International Marine Sports Club (ADIMSC) bagging eleven of the 15 available slots including three successive podium-lockouts in France, China and India.
Their American driver Shaun Torrente – formerly with Victory Team - leads the trio of Team Abu Dhabi drivers with three wins and a third place, while teammate Erik Stark tries to keep pace with two wins and a couple of thirds and Thani Al Qamzi in third with three third places.
"The last two races are our home runs where historically we have done well in past years," Bin Huraiz said.
"We have two very experienced drivers, one of whom is the defending world champion. So the bar is already set quite high and it will not be long before both Ahmed and Alex start delivering consistent performances," Bin Huraiz hoped.
Meanwhile, Ahmed Al Fahim will be joined by Asian Games gold medallist Ali Al Lanjawi in the F4-S category in the final two races of the season. Al Fahim had a fantastic run at the Grand Prix of India in Amaravati and the Victory Team driver now lies in third overall with 25 points.
"Our intention of getting Ali out on the water in a F4 boat is to give him the exposure while preparing him for tougher battles ahead starting next season," Bin Huraiz related.
"It has always been our focus to give our young Emirati drivers the right sort of platform so that they can raise their game and start excelling for their country. Ali has made us proud with a gold and a silver medal at the 2018 Asian Games in Indonesia and we feel he is the right man who can rise to the occasion in the future," the board chairman added.
Home
>>
Entertainment Section