Home
>>
Healthcare & Medicine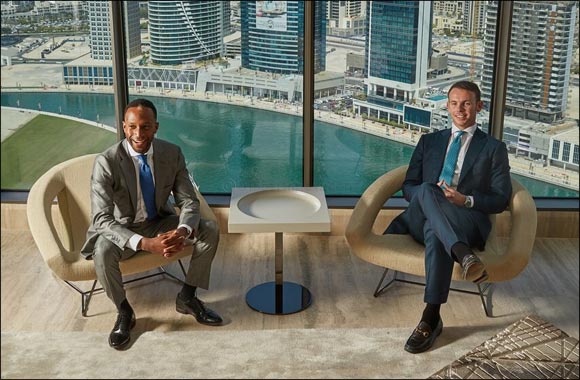 Royal Brompton & Harefield Hospitals Specialist Care performs advanced procedures to tackle growing regional heart and lung disease at Arab Health 2019
Poor lifestyle choices contribute to diseases pertaining to the heart and lungs
Pioneering 3D mapping technology reduces arrhythmia patients' exposure to radiation
Dubai, UAE, 29 January 2019: In response to the Middle East's growing number of heart and lung disease cases, Royal Brompton & Harefield Hospitals Specialist Care (RB&HH) are showcasing its latest advancements which provide viable options to directly combat these serious diseases at Arab Health 2019.
In many cases, diseases of the heart and lungs are caused by poor lifestyle choices such as an unhealthy diet, a lack of exercise and smoking. These risk factors contribute to the high prevalence of lung disease and cardio vascular diseases (CVDs) in the region. At the show, two of RB&HH's experts will perform unique live surgical demonstrations in a replica surgical theatre set-up for the largely preventable diseases. These surgical demonstrations include:
Reducing exposure to x-ray radiation – pioneering 3D mapping technique
Dr Sabine Ernst, consultant cardiologist and cardiac electrophysiologist at RB&HH Specialist Care, and reader in cardiology at Imperial College London, will conduct a simulated catheter ablation for atrial fibrillation without using x-ray. Instead, Dr Ernst will use a unique structured 3D mapping technique which allows cardiac arrhythmia patients to benefit from zero radiation exposure during transcatheter procedures. She is, so far, the only practitioner using this approach.
The non-fluoroscopic catheter ablation approach for atrial fibrillation is an innovative treatment which entirely avoids using x-rays during the invasive procedure. Arrhythmias, or abnormal heart rhythms, are widely experienced by people across the world. Atrial fibrillation is the most common form of arrhythmia and a major cause of strokes which is a growing issue across the Middle East. In the UAE for example, the average age of stroke patients is 20 years younger than the rest of the world at age 45 according to industry reports.
The prevalence of atrial fibrillation in the Middle East triples with each decade of life compared to other developed countries, where it doubles with each decade of life . Additionally, twice as many women are affected by mitral stenosis than men in the Middle East, which leads them to develop atrial fibrillation more often. These trends can be attributed to increases in sedentary lifestyles, ageing, obesity, diabetes, and hypertension.
This innovative procedure corrects abnormal electrical impulses in the heart using 3D mapping gained through cardiac magnetic resonance (CMR) or computed tomography (CT) imaging.
Dr Ernst commented: "In the Middle East where atrial fibrillation is highly prevalent, a patient may require multiple ablations leading to high exposure to radiation. Exposure to radiation through x-rays is linked to an increased risk of developing cancer in the future – every time a patient has a scan they up their risk. So, reducing this exposure is extremely beneficial to their overall health."
Dr Sabine Ernst will perform this procedure at Arab Health 2019 on Monday, 28 January 2019 at 10.30am on the ABHI stand located in the UK Pavilion, Hall 7 – H7C30.
Single port VATS lobectomy – an alternative surgical approach for lung cancer resection
Recent reports suggest that 30,000 people a year will have lung cancer diagnosed in the Middle East by 2020. 68% of Arab countries have lung cancer as one of the most frequent five types of cancer , and in the UAE 4,500 new cases of cancer are reported every year .
In order to treat lung cancer, Mr Simon Jordan, consultant thoracic surgeon at RB&HH Specialist Care will showcase the innovative single port video-assisted thoracic surgery (VATS) lobectomy procedure. This is a minimally invasive lung cancer resection using a single port entry only, resulting in smaller scars and less pain for the patient than a traditional lobectomy.
Mr Jordan said: "It is important that patients from the Middle East are aware of all of the surgical options available to them in order to make the right choice. We pride ourselves in providing the most advanced and pioneering procedures that effectively treat diseases while causing the least discomfort to the patient, such as the VATS lobectomy procedure. We have found the use of single port minimally invasive surgery reduces the amount of post-operative pain and speeds up the recovery process."
Mr Simon Jordan will perform this procedure at Arab Health 2019 on Tuesday, 29 January 2019 at 2.30pm on the ABHI stand located in the UK Pavilion, Hall 7 – H7C30.
Royal Brompton & Harefield Hospitals Specialist Care has a strong and long-established relationship with the Middle East. The organisation works closely with health authorities including the Dubai Health Authority, the Ministry of Health and Prevention and Hamad Medical Corporation.
Known across the world over for its expertise, standard of care and research success in lung and heart disease, Royal Brompton & Harefield Hospitals Specialist Care operates a visiting doctor programme with key hospitals across the Middle East region. The programme helps to provide better clinical outcomes and strengthen relationships with the region's healthcare providers.
Royal Brompton & Harefield Hospitals Specialist Care provide patients with rapid access to state-of-the-art diagnostics and outpatient facilities in the Harley Street medical area. In-patients can benefit from advanced treatment facilities in their private wards situated within the main hospital buildings. Each facility has a dedicated concierge service and international liaison officers who provide support to overseas patients and their families, paying particular attention to their cultural, religious and language needs.
Home
>>
Healthcare & Medicine Section