Home
>>
Education & Training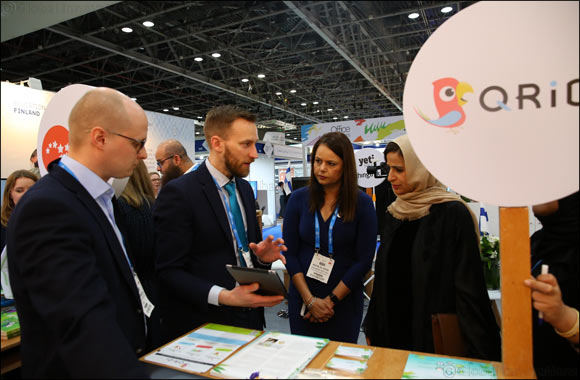 MENA education sector offers huge potential for business growth
Dubai, United Arab Emirates; 28 February 2019 – Highlighting the huge potential for growth of their businesses in the Middle East, exhibitors at GESS Dubai 2019 said there is vast scope for service providers to introduce latest technologies in the region and make the next generation ready for the 21st century skill sets.
GESS Dubai, which concluded on Thursday at the Dubai World Trade Centre, is the biggest education conference and exhibition in the MENA region. This year the show hosted exhibitors and country pavilions from Bahrain, China, Denmark, Finland, Germany, India, Italy, Jordan, Korea, Turkey, Netherlands, Saudi Arabia, the United Kingdom and the United States showcasing a wide range of products and solutions from innovative edtech (such as VR/AR, STEAM, robotics, lab equipment, mobile apps) teaching aides as well as uniforms and furniture.
Nilesh Korgaonkar, CEO of Atlab, said, "All the governments over here, especially the Ministry of Education, and the vision of the country are focused on the knowledge-based economy and global citizenship. A lot of investments are being made in the education sector as the governments themselves want to have the next generation ready for the 21st-century skill sets.
"Due to this, there is a larger scope for service providers like us to bring in the latest technologies and the resources. We are not only involved in selling but we also provide world-class training through our own experienced qualified technical team which is trained on the products before its members go and train the educators."
Korgaonkar, who looks after Lego Education, said the business is growing in the UAE as well as in the Gulf countries. "We have operations in the entire Middle East and we are looking for expansion into other countries," he said.
Participating for the first time this year, Australia brought 11 companies to the show. "Some of them are scale-ups and others are large companies. Out of 11 companies, three are large companies and already doing business in the UAE. Others are looking for customers and distributors," said Maria Chirikina, ICT & Technology Trade Officer at Global Victoria, Department of Jobs, Precincts and Regions. She mentioned that the biggest opportunity is for science education and probably like for KG to 12.
Nitin Nanu, who represents Australia's Language Your Way as Operations Head for the Middle East & North Africa, said, "We have already received good response from the UAE Ministry of Education. They want to test the application in their KG schools. Even the Knowledge and Human Development Authority, known as KHDA, has given good feedback. We hope to win some deals in the following weeks." 'Language Your Way' is a comprehensive learning tool with personalised teaching methods.
Meanwhile, Finland is participating with 18 companies and a couple of them have businesses with UAE-based companies. They said the UAE particularly Dubai is a very important entry point to explore business in the Middle East.
"We receive a lot of positive interest from local customers here and other countries such as Saudi Arabia, Egypt, Lebanon, Pakistan, India, etc. Dubai provides us with possible routes to enter neighbouring markets," said Nils Lagestrom, Executive Chairman of Finland-based Kindiedays. "It's our second consecutive participation at the GESS. We built a new product – Kindiedays 2.0 - after the feedback from UAE customers last year. We launched it here this year," he said.
Kindiedays is available in Finnish, English and Spanish and sold in Europe, Latin America, UAE and Australia with a focus on private and international nurseries and kindergartens.
Seppo, another company from Finland which is participating at GESS for the fourth consecutive year, said it has many schools as its clients. Its Business Development Manager Jaana Rasanen-Pentti said seppo also has clients in the region. She said there is great potential for the growth of her business in the UAE and the wider region. Seppo creates games for learning outdoor.
Exhibitors mentioned that the response was overwhelming this year, but the signing of new deals will take time as the interested buyers need to test the products first before making up their minds and take the decision.
Nils Lagestrom said, "We have many people coming and do the first discussion. They will test the solutions and then they will enter into the final agreement."
Majority of the close to 600 exhibitors which participated this year said there was an overwhelming response from show visitors for their products and solutions, which were showcased during the three-day exhibition. GES Dubai returns to the Dubai World Trade Centre on February 25-27, 2020.
Home
>>
Education & Training Section