Home
>>
Lifestyle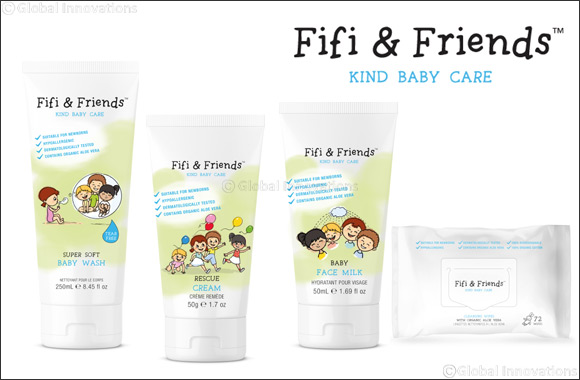 Protect your little ones skin during summer time with Fifi & Friends
Dubai, UAE, April 14, 2019: Just like switching our skincare routine for summer time, it's equally important to choose the right products that are suitable for the sensitive skin of babies & toddlers and that will keep them protected during hot summer days. Introducing Fifi & Friends range of natural, gentle and effective bath & body products - developed specifically to care for the delicate skin of babies, toddlers and that can also be used by pregnant mothers. The products are hypoallergenic, vegetarian and free from harmful ingredients such as sulfates, parabens, wheat and silicones.
Here are a few summer time essentials from Fifi & Friends:
Super Soft Baby Wash (AED 53)
This soft and mild body wash delicately cleanses even the most sensitive skin, ensuring soft and happy skin.
Cleansing Wipes with Organic Aloe Vera (AED 30 -72 pack, AED19 - 32 pack)
These moisturising baby wipes freshen baby's skin at home and on-the-go. Made with 100% biodegradable organic cotton, they gently cleanse and refresh and are suitable even for sensitive skin. It is available in 72 wipes and 32 wipes – a handy travel size for when you're on-the-go.
Rescue Cream (AED 45)
This intensive, multi-use, nourishing barrier cream provides a protective layer to help restore skin back to its soft and supple condition after any rashes or irritation. The formula contains moisturising Shea Butter and Olive Oil and works wonders on cheeks irritated by teething.
Baby Face Milk (AED 52)
This sweet Almond Oil infused face moisturiser gently hydrates even the most sensitive of skins. Clinically proved to be safe on baby's skin, it contains organic Aloe Vera which soothes and helps to protect.
Home
>>
Lifestyle Section