Home
>>
Fashion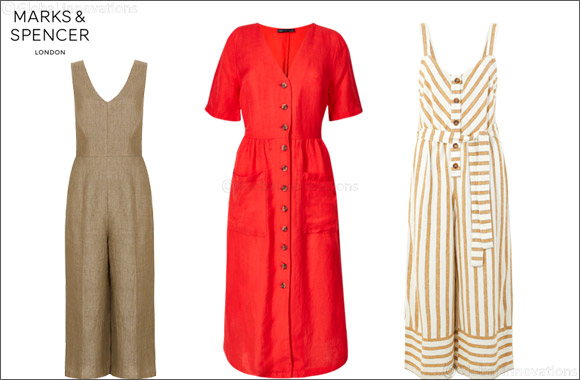 Marks & Spencer Unveils Its Chic Linen Summer Collection'
Dubai, United Arab Emirates - 17 June 2019: Marks & Spencer has introduced its ultimate linen collection for Summer. A style that lends itself perfectly to both weekend and workwear, linen is the must-have fabric this season. From signature Summer dresses to classic skirts and beach ready accessories, shoppers can look no further than Marks & Spencer to get them through the warmer temperatures.
The collection includes bold colours to stand out from the crowd as well as pastel tones, creating a more understated look. With Cool Comfort™ finish, a key innovation that works to draw moisture to the outer surface, these chic pieces will leave shoppers feeling fresh, cool and comfortable, while the Easy-To-Iron ™ finish will ensure crease-free clothing, so they can look fantastic all day long.
Women can stay stylish even on those warmest of days with the pure linen striped jumpsuit. With a sleek textured finish and the finest quality linen, the tortoiseshell buttons give this V-neck jumpsuit extra elegance. Pair with a beach straw hat and a transparent tote bag for extra fashion kudos.
For something a little more casual, choose the versatile pure linen short sleeve shirt that comes in a variation of colours.
Team wonderfully with the linen rich A-line skirt for the perfect Summer look. Also layer neutral tones together or mix and match coloured linen separates with white staples for a clean, on-trend look.
Shop the Marks & Spencer linen collection this summer for practicality, comfort and versatility, with breezy silhouettes to match this must-have lightweight fabric.
Marks & Spencer

Pure Linen Striped Jumpsuit

AED 350.00

Marks & Spencer

Linen Rich Striped Button Detailed Jumpsuit

AED 310.00

Marks & Spencer

Pure Linen Jumpsuit

AED 475.00
Marks & Spencer

Linen Blend Button Front Waisted Midi Dress

AED 275.00

Marks & Spencer

Sheer Oversized Long Sleeve Shirt

AED 310.00

Marks & Spencer

Pure Linen Short Sleeve Shirt

AED 175.00
Marks & Spencer

Linen Blend Button Front Waisted Midi Dress

AED 275.00

Marks & Spencer

Sheer Oversized Long Sleeve Shirt

AED 310.00

Marks & Spencer

Pure Linen Short Sleeve Shirt

AED 175.00
Marks & Spencer

Pure Linen Long Sleeve Shirt

AED 185.00

Marks & Spencer

Linen Rich Button Detailed Shirt

AED 175.00

Marks & Spencer

Pure Linen Round Neck Short Sleeve Blouse

AED 175.00
Marks & Spencer

Pure Linen Checked A-Line Midi Skirt

AED 235.00

Marks & Spencer

Linen Rich Animal Print A-Line Midi Skirt

AED 210.00

Marks & Spencer

Linen Rich A-Line Skirt

AED 120.00
Marks & Spencer
Linen Blend Striped Cropped Trousers
AED 160.00
Home
>>
Fashion Section