Home
>>
Banking & Investments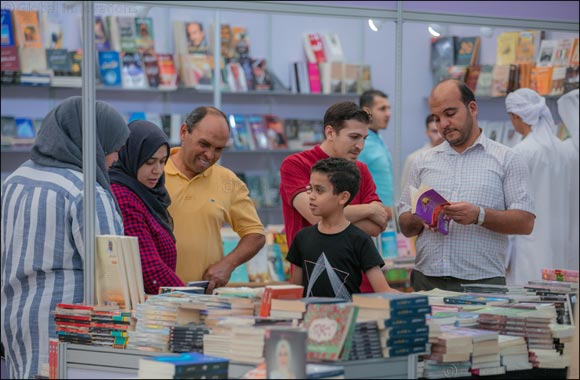 Al Ain Book Fair Launches its 11th Edition
Event held under the Patronage of HH Sheikh Tahnoun bin Mohammed bin Khalifa Al Nahyan
Prominent Emirati and resident authors, artists and intellectuals to take part in a varied cultural programme, organised by Department of Culture and Tourism - Abu Dhabi
Al Ain Book Fair set to run from September 24 to October 3
Al Ain, UAE – September 23, 2019: Under the Patronage of HH Sheikh Tahnoun bin Mohammed bin Khalifa Al Nahyan, the Ruler's Representative in Al Ain, the 11th edition of Al Ain Book Fair (AABF) will launch on Tuesday 24 September, and will run until October 3 2019.
Organised by the Department of Culture and Tourism - Abu Dhabi (DCT Abu Dhabi), this year's edition will present a wide range of interactive and entertainment activities and will also include a series of youth workshops and cultural musical shows organised in collaboration with Al Qattara Arts Centre, Al Ain.
The book fair will also engage a group of recognised Emirati and resident authors, artists and intellectuals, as well as local publishing houses, which will showcase their latest titles.
"Al Ain Book Fair is an ideal platform to celebrate our Emirati writers, authors, creators and intellectuals, as well as discussing pressing topics the cultural sphere," said Abdullah Majid Al Ali, Acting Executive Director of the Dar Al Kutub Sector at DCT Abu Dhabi. "With each edition, we ensure to offer creative events and programmes that appeal to the diverse audiences in Al Ain, responding to various intellectual and cultural interests. We continuously work to raise awareness of the exhibition and its importance locally, and present it as an integrated cultural festival, not just a venue to sell books. This is a reflection of our commitment at the Department of Culture and Tourism – Abu Dhabi to revive a reading culture and position books as a fundamental element to a solid cultural upbringing.
"We invite all members of the community to visit Al Ain Book Fair, to get to meet their favourite writers and learn about their latest literary and creative works, and participate in the fair's exciting programme that is rich with cultural activities, discussions, music and entertainment events for all members of the community."
Some of the most prominent names participating in this year's Al Ain Book Fair include Emirati poet Shaikha Al Mutairi , and Emirati academic and poet Dr. Talal Al Junaibi, who will participate in a panel titled Nabati and Fasih Poetry: A Glimpse into the Future.
In addition, the fair will welcome Dr. Muna Al Sahili, Assistant Professor at the Department of Arabic Language and Literature in the United Arab Emirates University, who will participate in a panel titled Readings on Female Narrators in the UAE. The discussion will explore the role of female narrators in the UAE and will delve deeper into how women have enriched and continue to enrich the narrative landscape whilst touching on its features, and historical development.
Highlights of the Al Ain Book Fair include a session entitled Making our History into a Novel - Al Ain as a Model hosted by poet Sheikha Al Jaberi, and Emirati novelist Ali Al Humairi who will discuss the means of documenting cultural traditions in the UAE. Also, Dr. Badeeah Al Hashemi will participate in Child-Rearing Challenges and their Impact on the Future, where the discussion will touch on the challenges facing the education sector in the technological age.
Other key sessions during the Al Ain Book Fair include Tales of Culture and Arts, a seminar that will explore the historic relationship between cultures and arts, and the role cultural heritage plays in shaping the cognitive arts movement. Guest speakers during this session include Dr. Doris Hambuch, Associate Professor, English Literature Department, at United Arab Emirates University and Gulmira Abdulkhalikova, lecturer at Moscow Tchaikovsky Conservatory.
The Al Ain Book fair will also host seminars, panels, lectures and shows, with renowned speakers such as Dr. Hamad bin Sray, Dr. Ahmed Afifi, artist Mohammad Al Badi, Dr. Jamal Maqabala and many more.
The Fair will be open from Saturday to Thursday from 9am - 1pm and from 5pm – 9pm. On Fridays, it will open from 5pm - 10pm. The show is free and open to the public.
Home
>>
Banking & Investments Section