Home
>>
Fashion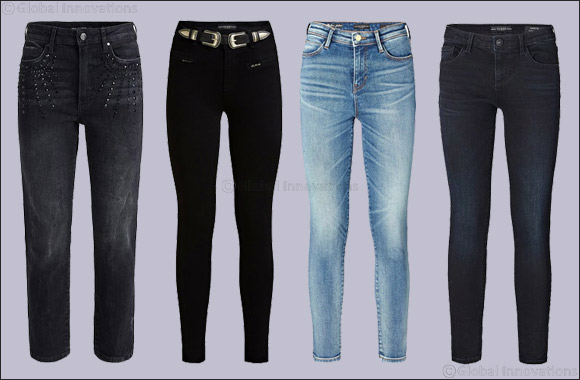 GUESS' Denim Fit Guide for Women
Dubai, United Arab Emirates - September 26, 2019: Sporting the slogan "denim is our world", iconic American label, GUESS has released a new range of stylish denimwear for women this Fall 19. Encompassing pieces that feature light and dark washes, as well as classic cut jeans and skinny fits, the collection has something to suit any woman this season – and is firmly putting GUESS back on the map as a one-stop denim destination it was known for in the 90s.
For those who love a skinny fit, the 1981 jeans are a must-have for this season. Not only are they super high rise, but they are also cropped at the ankle – and perfect for fashionistas. Women can also shop the iconic Annette Skinny High jeans, which are a great alternative if women are looking for a slightly darker wash.
There are also the Curve Mid jeans, which offer a second-skin fit. Designed with both comfort and style in mind, these jeans will take women from day to night with ease. And for those looking for a lighter wash, they need look no further than the Curve, a new take on the Curve X style, with the back darts for a smoother line, creating the ultimate silhouette. Plus, there's the Ultra Curve jeans – a new style for Fall which give women even more flexibility.
For those that like a mid-rise, GUESS' Jegging Mid and Jegging Mid Ultra Skinny is spot on for something that sits just below the waist. Offering tailored back pockets with narrow belts loops, GUESS has brought the side seam forward for an even greater slimming effect.
Then there's the Marilyn Skinny Low jean – perfect for evening looks. Featuring an iconic t-pocket, this style pairs perfectly with any top, blouse or shirt. Not only is this style low-rise on the hips, but it's also cropped at the ankle – and is ideal for showing off must-have footwear.
Last but not least, the It Girl skinny jeans have a tapered silhouette for greater definition, while the Shanon Belt jeans, sports a skinny double belt and welt pockets and pays homage to the western-inspired trend.
In need of new jeans this season? Than look no further than GUESS. Shop the Fall 19 denim collection today.
Home
>>
Fashion Section