Home
>>
Entertainment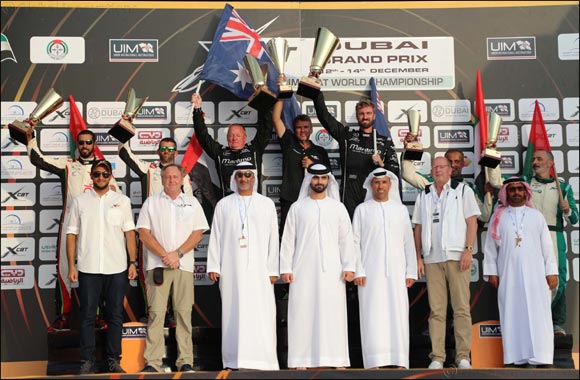 Aussies Snatch Team Abu Dhabi's Xcat World Title With Dramatic Win in Dubai
Penalty lap proves decisive as Torrente, Al Mansoori miss out to Maritimo in spectacular grand finale
Abu Dhabi, UAE, 14 December, 2019: Australians Tom Barry-Cotter and Ross Willaton clinched the 2019 UIM XCAT World Championship with victory in the Dubai Grand Prix today as Team Abu Dhabi's Shaun Torrente and Faleh Al Mansoori saw their hopes of a second successive title ended in dramatic style.
A penalty lap imposed on the defending champions for missing a buoy in Abu Dhabi 4 proved decisive as Barry-Cotter and Willaton swept past them in Maritimo to win the weekend's second race by 34.85 seconds from Rashed Al Tayer and Majed Al Mansoori in Abu Dhabi 5
The Dubai Police crew of Arif Al Zaffain and Nadir Bin Hendi took third position ahead of Torrente and Al Mansoori whose fourth place in Abu Dhabi 4 following their race success 24 hours earlier gave them runners up spot in the championship.
After a spectacular start, Abu Dhabi 4 clawed out a three-seconds lead over Maritimo before being dropped back by the penalty lap, with the pressure from Barry-Cotter and Ross Willaton forcing a crucial misjudgement.
"They were quick and we were pushing and I think we just pushed a little harder than we could without making mistakes," said Torrente. "We missed a buoy and the race committee was quick about it, giving us a long lap penalty
"So we just dealt with that and we pushed as hard as we could without making any more mistakes. We still had to keep second place in the championship in mind. That was not our goal so we fell short this year, but myself, Saleh and the rest of the team won't stop until we get the title back."
The American will barely have time to catch his breath ahead of an enthralling last week of the season in the UAE which will see Team Abu Dhabi aiming to collect another four world titles to add to the UIM F2 and endurance championships already won.
Torrente heads from Dubai to Sharjah in a commanding position to retain the UIM F1H2O drivers' crown, as well as the team title with Thani Al Qemzi.
Meanwhile, Rashed Al Tayer switches from powerboats with a fighting chance to claim a first world aquabikes crown in Runabout GP1, as Rashid Al Mulla bids to clinch a second successive world freestyle title with a tenth straight Grand Prix victory.
Dubai Grand Prix Race 2 results
1. Maritimo (AUS) Tom Barry-Cotter / Ross Willaton 43.40.42
2. Abu Dhabi 5 (UAE) Rashed Al Tayer and Majed Al Mansoori 44.15.27
3. Dubai Police (UAE) Arif Al Zaffain / Nadir Bin Hendi 44.22.60
4. Abu Dhabi 4 (UAE) Shaun Torrente / Faleh Al Mansoori 44.24.30
5. 222 Offshore (IT/AUS) Giovanni Carpitella / Darren Nicholson 44.55.34
6. HPI Racing Team (IT) Rosario Schiano Di Cola / Guiseppe Schiano Di Cola 45.02.89
7. Victory Team (UAE) Salem Al Adidi / Eisa Al Ali 45.43.81
8. Kuwait (KWT) Abdullatif Al Omani / Moustafa Al Dashti 46.15.64
9. De Mitri (IT) Roberto Lo Piano / Marco Di Cosmo 44.04.30 + 1 lap
10. Videx (IT) Alfredo Amato / Saul Bubacco 44.34.48 + 1 lap
XCAT World Championship positions
1. Maritimo 202pts
2. Abu Dhabi 4 193
3. Dubai Police 191
4. Abu Dhabi 5 169
5. 222 Offshore 107
6. HPI Racing Team 94
Home
>>
Entertainment Section