Home
>>
Real Estate & Retail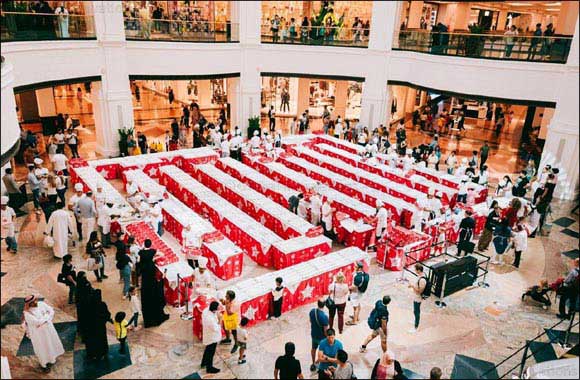 Mall of the Emirates' show-stopping Stollen Charity Cake Sale raises more than AED 105,000 for Emirates Red Crescent
The annual charity event - held in partnership with Kempinski Hotel
Mall of the Emirates - returned bigger than ever before for its 14th edition
Dubai - UAE, December 15 2019: Mall of the Emirates, Majid Al Futtaim's flagship mall destination, has joined forces with Kempinski Hotel Mall of the Emirates to help cook up an AED 107,000 donation to Emirates Red Crescent - right in time for the season of giving. The annual stollen charity cake sale was hosted earlier this week (6 December 2019) at the Mall of the Emirates' South Galleria, and produced a record-breaking 850-metre stollen cake for the community to purchase a slice of and contribute to the cause.
Celebrating its 14th year of selling record amounts of the festive German treat, the event was the biggest to date this year with many members of the community taking part to help raise funds for those less fortunate.
Led by the hotel's popular Executive Chef, Sudqi Naddaf, the Stollen Charity cake was the result of many weeks of preparation by a team of 12 chefs who worked day and night to produce the Christmas treat. Involving more than 60 volunteer team members as back-up support, this year's Stollen cake recipe included more than 3,500 eggs, 730 kilogrammes of flour, 330 kilogrammes of raisins, 70 kilogrammes of marzipan, 150 kilogrammes of lemon and 170 kilogrammes of zested orange.
Needless to say, visitors to Mall of the Emiratesquickly got into the spirit of the festive season and the Stollen Charity cake found eager buyers who wanted to contribute to the fundraising event.

Hussain Moosa, Majid Al Futtaim Properties – Director, Mall of the Emirates, said, "It has been wonderful to see the return of our annual Stollen Charity Cake Sale for the 14th year. It is truly heartening to host such a meaningful activity at Mall of the Emirates, especially as the festive season brings an even greater sense of giving to our community. As a Majid Al Futtaim brand, we, at Mall of the Emirates, are committed to creating great moments for everyone, every day. The wonderful culinary creations of Kempinski Hotel Mall of the Emirates' talented chefs is an ideal way to not only draw a smile to the faces of our community, but most importantly, to bring comfort and support to those who are less fortunate, thanks to the initiatives by Emirates Red Crescent."
Slim Zaiane, General Manager, Kempinski Hotel Mall of the Emirates, said: "We are truly delighted to have once more been an integral part of the annual Stollen Charity Cake Sale, led by our Executive Chef, Sudqi Nadaf, and his team. The festive season is all about bringing loved ones together and making dreams come true; thus, it gives us immense pleasure to have sold more Stollen cake than we did last year, and give back for a noble cause. I would like to extend my heartfelt thanks to my team and Mall of the Emirates for making it all happen, and wishing all a happy holiday season."
Spreading even more holiday cheer while supporting the season of giving,
Mall of the Emirates is hosting a full programme of festive events for the whole family to join in this month. A donation drive for guests to give to the less fortunate is now open until 25 December. Customers will also be treated to various surprises across the mall, including roaming entertainment and meet-and-greet sessions with Santa Claus.
Home
>>
Real Estate & Retail Section