Home
>>
Healthcare & Medicine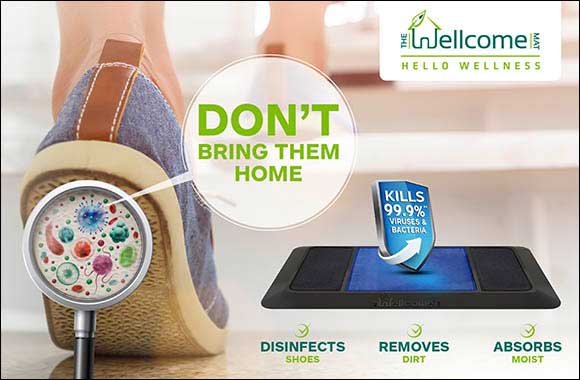 A Team of UAE Residents Found their Breakthrough Moment with An Innovation That Could Revolutionize the Way We Walk into Our Homes
The "Wellcome Mat" Is Ready to Protect the Homes of UAE Residents, and The World!
United Arab Emirates, September 14, 2020: In the last couple of months, life seems to have taken a wild spin towards uncertain terrain for most citizens of the world. With the outbreak of the COVID-19 pandemic, normality has been challenged more than ever before, making us put large question marks on things that would have otherwise been unchallenged parts of our daily routines. Our perception of hygiene, germs, and bacteria has since heightened causing people to think twice and thrice about how germs can find their way into their homes. It was this very thought process, that fueled UAE residents Bassam F., his daughter Maya F, and their cofounder Abdul Aziz E. to create the innovative concept of the Wellcome Mat.
The Wellcome Mat is the first door mat that cleans and disinfects our shoes, so that we can enter our home free from infectious germs, viruses and bacteria.
The Wellcome Mat comprises of different panels; two side panels that disinfectants the shoes through applying the "Wellcome Shoe disinfectant Solution" which kills upto 99.9% of the germs; and a central microfiber drying panel that cleans and dries the shoes.
The Wellcome Mat tackles a domestic hygiene problem that have long existed way before the rise of the Covid-19 pandemic; which is the high levels of contamination of our shoe soles. Many global studies have addressed this topic, the latest being a 2018 study conducted by The University of Arizona, which revealed that a sole of an average shoe could carry over 421,000 bacteria, viruses, and parasites. Such astounding data, along with the wide spread of the Covid-19 motivated the creators of the Wellcome Mat to fast track their plans and launch their innovation the soonest.
The team encountered many logistical challenges to design, produce and launch their product, at a time when the whole world was under lockdown. When most of the airports in the world implemented closing measures, the founders of the 'Wellcome Mat' were in three different countries. Bassam F, a resident of the United Arab Emirates, was on a trip to Canada; his daughter and partner Maya F. was in the UK, while their cofounder Abdul Aziz E. was in Dubai. However, this did not prevent them from working together as a team to develop their ideas, complete the production process and launch the 'Wellcome Mat' in the UAE, with the intent of expanding its distribution across the region and worldwide.
Home
>>
Healthcare & Medicine Section