Home
>>
Healthcare & Medicine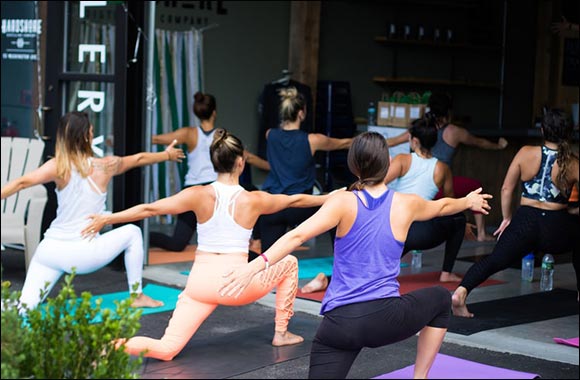 Find the Right Fitness Trainer with Dubai Personal Trainers
You must find the perfect fitness trainer because they are the key component to your overall shape and fitness success. Alt-text: a girl in a squat position with her trainer next to her.
Staying in shape is a prerogative to so many of us. We might have different motivations behind it, but the goal is the same. To be in the best possible shape you can be. While some can accomplish this on their own, most of us are lost in the woods without professional guidance. That is when a personal trainer comes in to play. However, there is a catch. Finding the right fitness trained can be more difficult than you might anticipate since they are very hard to come across. That is why we are sharing with you valuable advice on how to land a perfect professional trainer for your fitness needs.
Find the right fitness trainer with our tips will be a piece of cake
When looking for trainers you are looking for experts you can really trust. Otherwise, your fitness journey will not be what it should. There is a lot that goes into finding the right trainer for your needs. Yet, these are the essential details you must pay extra attention to.
Your trainer will do lots of important things for you. One of them is providing motivation. Alt-text: a fit woman doing squads with a weight after she managed to successfully find the right fitness trainer.
Look for a trainer that motivates you
Finding the right fitness trainer doesn't only imply finding a professional that knows which exercises to administer and teaches you the right technique. Their personality and approach to motivation play a major role in your fitness advancement. While some of us respond well to positivity and encouragement, others might do best when shown tough love from their trainer. Some might even do their best under some third type of circumstances. So, when looking for the perfect trainer, make sure that your styles and training personalities do not clash. At Dubai Personal Trainers you can find multiple trainers that have different approaches to motivating their clients.
COVID-19 is changing the fitness game
Unfortunately, we are still struggling in the middle of the global coronavirus pandemic. Things are pretty uncertain every day because the government keeps changing safety measures in hopes of protecting as many people as possible from getting infected. Consequently, this can cause a problem when it comes to visiting the gym. Still, don't let home isolation deter you from achieving your fitness and health goals. Many trainers provide virtual and online training sessions. So, when looking for a trainer make sure he can train you under any circumstances. No matter which restrictions you might be facing.
Working out at home is a great way to pass the time and overcome isolation caused by coronavirus. Alt-text: a man and a woman sitting on a workout mat after they have finished their workout.
Go to a free fitness class or an event
Personal trainers are a great investment in yourself and in your body. Still, this investment rarely comes cheap. Thus, be sure that you are getting your money's worth. And what better way to do that than to see your trainer in action. Most trainers will agree to a free tryout or session before you decide to hire them. Also, many teach free fitness events for this exact purpose. For trainers, such events are a simple and great way to advertise their skills and expertise. This way you will sure you are hiring the best possible person for the job.
Fitness classes are a great way to stay fit at a smaller price. Alt-text: a bunch of women doing the same yoga pose on their workout mats.
How much will a trainer cost?
This question is hard to answer since the final price can depend on multiple factors. For instance, how many sessions a week will you have, is gym membership included, will you have a group or one-on-one sessions, etc. Keep in mind that if you want to find the right fitness trainer be prepared to open up your wallet.
Great trainers usually know their worth and are very much in demand. Therefore, their services will rarely be on the cheap side. If you want to stay fit this upcoming summer, your best bet is with a trainer that will dedicate his or her attention only to you during your workout. This type of plan will cost you a vast sum of money.
Trainer availability
We already briefly mentioned that some trainers have fully booked schedules. If they know their stuff, chances are that clients are chasing them for fitness sessions. When you hire a trainer that is highly demanded, make sure your schedules are compatible. Don't be shy to state what your needs are and ask for a guaranty that they can be met. Sure having lots of clients is great for trainers, but that shouldn't derail your training process. So, a decent available trainer is always better than an excellent overbooked fitness specialist.
Available locations
Some trainers work out of a single gym, others can train clients in multiple places, while there are those who are even willing to make house calls. When hiring a trainer make sure you are clear on the location of your workouts. Are you sure you will be willing to drive for 30 min to get to a single workout? Be honest with yourself, because the first step of your fitness journey is getting yourself in front of your trainer. For many, this initial step tends to be the hardest.
Conclusion
With our simple tips, you will be able to find the perfect fitness trainer much easier than you might have thought. The bottom line is you need to evaluate multiple things and only once you are done with each and everyone you can make your choice. Otherwise, you might end up with a trainer that is not the best fit for you. So, what are you waiting for? Find your perfect trainer and get your workout on. They don't say for anything that strong is the new black.
Home
>>
Healthcare & Medicine Section