Home
>>
Healthcare & Medicine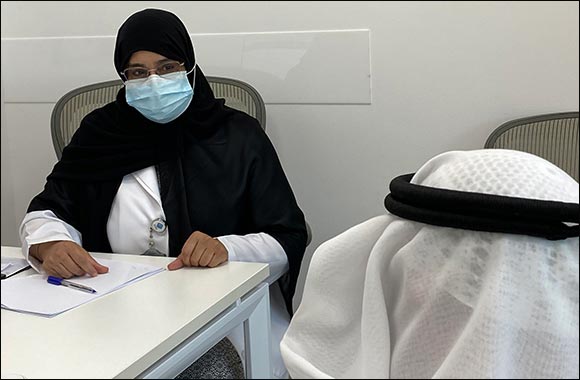 SEHA Provides Life-Changing Treatments to Patients Suffering With Psoriasis
To mark World Psoriasis Day, SEHA is raising awareness of advances in treatments that can give patients a new lease of confidence
Abu Dhabi, 31, October 2021: Abu Dhabi Health Services Company (SEHA), the UAE's largest healthcare network, is raising awareness of advances in the treatment of psoriasis.
SEHA and its team of specialist medical dermatologists provides high-level medical care for psoriasis patients at healthcare centers across Abu Dhabi with treatments. This includes the use of biologic medicines - one of the latest and most advanced therapies for moderate to severe cases of psoriasis.
Dr. Huda Rajab Ali, Head of the Dermatology Department and a Consultant Dermatologist, said: "Psoriasis is a chronic autoimmune skin condition that causes the appearance of red, itchy scaly patches, often on the knees, elbows, neck and scalp. Psoriasis is common, has no known cure and can result in flare-ups. Patients can suffer from these flare-ups for weeks or months on end before it subsides or they enter a period of remission."
She added: "In addition to following a healthy lifestyle, there are many treatments that help patients control symptoms. New breakthroughs are constantly being made, and our centers offer traditional treatments in addition to phototherapy (light therapy), and newer oral or injectable medications, which are usually prescribed for moderate or severe cases."
SEHA successfully treated a 46-year-old woman who has suffered from the disease since 1993. Speaking about her experience, she said: 'Psoriasis affected my life in every way imaginable. I tried everything to get rid of it using every medication I could get but received no benefits. The disease caused me anxiety and embarrassment because it spread severely all over my body. My suffering continued until I decided to book a consultation at the Al Maqtaa Health Center, where I met Dr. Huda Rajab who provided me with successful treatments and my condition improved. I am immensely grateful for the support I have received from SEHA and Dr. Huda, and hope others can benefit from the innovative treatments on offer."
The patient is still receiving treatment at Al Maqtaa Health Center, with her condition constantly improving along with her confidence.
A 31-year-old male psoriasis patient at SEHA said: "I suffered from the disease ever since I was a young boy, with large red spots spreading across my chest, back, and head, accompanied by bone and joint pain, and eventually, permanent nail loss. I tried many lotions and creams, but my condition did not improve until I visited the Al Maqtaa Health Center and met Dr. Huda. I was prescribed a new treatment and after a few weeks my condition began to change drastically. All of my symptoms disappeared within two months, which resulted in a positive impact on my self-confidence and social life."

SEHA provides dermatological services in its clinics across Abu Dhabi, including: Al Bateen Healthcare Center, Al Falah Healthcare Center, Al Maqtaa Healthcare Center, Al Mushrif Children's Specialty Center, Al Samha Healthcare Center, Al Bahia Healthcare Center, Al Zafaranah Diagnostic & Screening Center, Baniyas Healthcare Center, Madinat Khalifa Healthcare Center, and Madinat Mohamed bin Zayed City Healthcare Center, in addition to dermatological clinics in Al Ain: Al Hili Healthcare Center, Al Jahili Healthcare Center, Al Khazna Healthcare Center, Al Muwaiji Healthcare Center, Al Quaa Healthcare Center, Al Yahar Healthcare Center, Mezyad Healthcare Center, Neima Healthcare Center, Oud Al Touba Diagnostic & Screening Center, and Sweihan Healthcare Center.
SEHA also has Dermatology Units in Tawam Hospital and Sheikh Khalifa Medical City, led by leading physicians who provide comprehensive and specialized care for both adult and pediatric patients. Experts provide diagnosis and treatment for all disorders of the skin, hair and nails including acne, psoriasis and related conditions, eczema, dermatitis, dark skin discoloration, vitiligo, urticaria, itching, hair problems, alopecia, infectious skin diseases, axillary, foot and hand hyperhidrosis, skin diseases from infancy to childhood, and nail disorders. Many treatments include laser therapy and light therapy in combination with other recommended therapies.
Home
>>
Healthcare & Medicine Section