Home
>>
Entertainment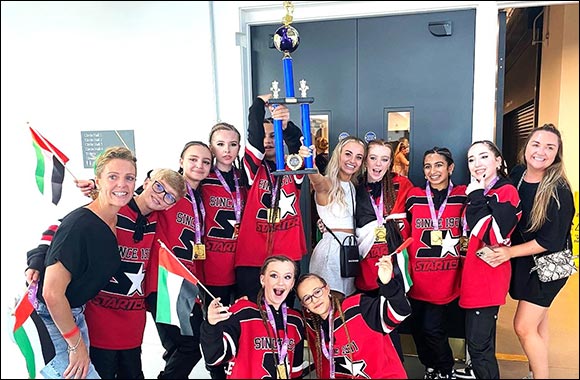 Adrenaline Youth Dance Company Win UDO World Street Dance Championships 2022 in Blackpool
• GEMS Wellington Academy – Silicon Oasis' elite dance squad beat 12 international teams
• Adrenaline won the under-18 beginners category with their street dance routine
• Nine students from years 7 to 12 competed among 220 teams from 32 countries
DUBAI, United Arab Emirates: The Adrenaline Youth Dance Company from GEMS Wellington Academy – Silicon Oasis, have beaten 12 international dance squads to become the United Dance Organisation (UDO) Under-18 Beginners World Street Dance Champions. Thousands of dancers from across the globe came together to compete for World Champion titles in front of some of the biggest street and hip-hop dance celebrity judges.
The UDO World Street Dance Championships took place on 11-14 August and were held at the prestigious Blackpool Winter Gardens.
The UDO World Street Dance Championships are considered the height of the annual street dance and hip-hop competition calendar, and the Adrenaline dancers have been training after-school and during weekends for the last 22 weeks, perfecting their routines with WSO's school dance partner, UDO Academy Dubai.
The Adrenaline team, comprises a mix of student ages and nationalities, representing the school's diverse demographic and that of the nation too. The team are: Kyla Munro and Lilly Barton (Year 12); Amelie Hornsby (Year 11), Medha Nair (Year 10); Maisa Reda (Year 9), Sofia Alqemzi (Year 8), Bella Booth and Lily Dueymes (Year 7), and Frank Tate (Year 6). The students are coached by UDO Teacher and Lead Coach for the team, Rebecca Miller, and managed by WSO Dance Programme Manager, Emma Tate.
Emma Tate, Dance Programme Manager at GEMS Wellington Academy – Silicon Oasis, said: "The entire WSO community is incredibly proud of Adrenaline and what they have achieved in Blackpool. The squad have been training intensely for 22 weeks in preparation for this competition, learning the choreography, perfecting their solo sections and working together as a team. For Adrenaline Youth Dance Company to travel to the UK and win is an achievement that each of these talented dancers will never forget.
Adrenaline have made their school and themselves proud with this fantastic win."
WSO is home to GEMS Education's Centre of Excellence for Performing Arts and Theatre Technologies, and has been in partnership with UDO for almost 10 years. This successful and long-standing collaboration provides the school's talented dance students with valuable opportunities to learn from professional industry experts who can inspire and guide them as they pursue their careers in dance and performing arts.
Year 8 student Sofia Alqemzi, became the first Emirati to participate in the UDO Championships and was particularly proud to fly the flag for her country at the event: "Going to the World Championships was the experience of a lifetime. I loved getting involved with the dancing and being with my friends, I also loved the fact that I could represent my country in such a meaningful and fun way."
Frank Tate, the troupe's only male participant also took home the first place prize in the under 14s open trio category. Speaking about his experience, he said: "I have had the best weekend competing at the UDO world street dance championships this weekend. I have loved competing and seeing other dancers from all over the world! Thank you to UDO Academy Dubai, WSO and our coach Rebecca Miller!"
Year 12 dance student, Kyla Munro, said: "I loved the whole experience from seeing the audience react to feeling the excited atmosphere when we were back stage. I was amazed at how welcoming everyone was and humbled by the incredible talent we were up against. I was excited to see what the other groups brought to the floor, but I'm so proud that Adrenaline were able to compete and win at such a high level."
¬¬
Home
>>
Entertainment Section