Home
>>
Entertainment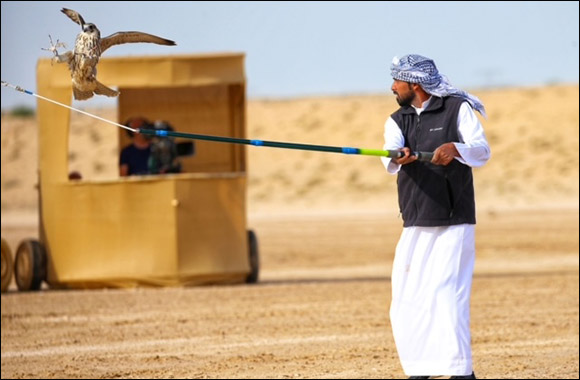 HH Sheikh Mohammed bin Rashid Al Maktoum Falcon Racing Cup to Kick Off on January 30
More than 3,000 birds, 700 falconers to compete in the falconry championship with total prize pool of over Dh23 million
Dubai, 26 January 2023: The inaugural His Highness Sheikh Mohammed bin Rashid Al Maktoum Falcon Racing Cup, organised by Hamdan Bin Mohammed Heritage Center (HHC), will kick off on Monday, January 30, and will run until February 15 at Al Ruwayyah desert area in Dubai.
More than 3,000 birds by 700 top national and regional falconers will compete in the falconry championship named after the Vice President and Prime Minister of the UAE and Ruler of Dubai. The tournament, formerly known as Fakhr Al Ajyal (Pride of Generations) Championship, is one of the most important and largest falconry championships at the country and regional level not only for the high number of participants but also for the total prize pool of over Dh23 million.
Promoting national heritage
Rashid Al Khasouni, HHC Director of Championships, said: "We are doubling our efforts to produce a tournament worthy of the size and stature of the name it bears."
He underlined: "Our message and goal is to preserve our authentic national heritage. Falconry is one of the symbols of our cultural legacy, and we are fully prepared for the launch of the largest falconry championship dearest to everyone's hearts."
The organising committee at HHC has completed all preparations for the tournament, including introducing the latest technology in running the event and providing support to participating falconers.
Strong competition
Demaithan bin Suwaidan, Chairman of the Fazza Championships Committee for Falconry, said a total of 3,880 birds and 770 top falconers are ready to make their in the heritage sport.
Ibn Suwaidan also confirmed the organising committee will provide all the requirements and the field is prepared to witness strong competition among falconers.

Categories
There will be a total of 100 racing rounds, with 20 rounds for the Sheikhs category, 28 rounds for the Public category, 28 rounds for the Owners (breeders) category, 10 rounds for Farkh and Jirnas falcons, 8 rounds for the Junior category, 4 rounds for Al Noukhba (Elite) category, and 2 rounds for the championship cup.
The first three finishers in the various categories will compete in Al Noukhba (Elite) races that will take place on February 14, a day before the Championship cup in the Sheikhs and Open categories on February 15.
Home
>>
Entertainment Section