Home
>>
Government, Legal & Humanity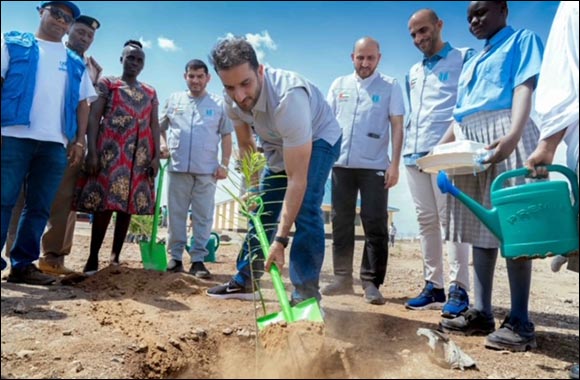 Sultan bin Ahmed Al Qasimi inaugurates The Big Heart Secondary School for Girls in Kenya's Kalobeyei Settlement
First boarding school for girls near Kakuma camp will provide 360 refugee and IDP girls with access to secondary education and safe lodging facilities, annually

06 March 2023: His Highness Sheikh Sultan bin Ahmed Al Qasimi, Deputy Ruler of Sharjah and Humanitarian Envoy of The Big Heart Foundation (TBHF), has inaugurated The Big Heart Secondary School for Girls in Kalobeyei settlement near Kakuma camp in Kenya. Launched by TBHF with the funding of Sharjah Charity House and in collaboration with the United Nations High Commissioner for Refugees (UNHCR), this first-ever boarding secondary school for girls in the area will annually provide 360 students - both refugees and girls from the surrounding host community - access to high-quality education and safe boarding facilities.
HH Sheikh Sultan bin Ahmed Al Qasimi led the delegation from Sharjah to the Republic of Kenya for the official field visit, during which they toured the school facilities. The delegation included H.E Hassan Yacoub Al Mansoori, Director of the office of HH Sheikh Sultan bin Ahmed Al Qasimi; H.E Mariam Al Hammadi, TBHF Director; H.E Ali Mohammed Al Khayyal, Vice President of the Board of Trustees of Sharjah Charity House; H.E Rashid Abdullah Al Obeid, Director of Sharjah Broadcasting Authority; H.E Adel Abdulla Mohamed, Board Member and Group CEO Air Arabia; H.E Saeed Ghanim Al Suwaidi, CEO Al Ghanem Investments and Developments; and H.E Abdelghani Hassan Mohamed, IFFCO Group Corporate Affairs and Business Development Director.
HH emphasised the importance of humanitarian education projects and its long-term impact on young generations who will be able to build a better future for refugee communities.
The school fills a major gap in secondary education requirements of girls in the target communities in Kenya, where only 5 percent girls had access to secondary education. The new school premises, spread across six buildings comprising classrooms, dormitories, a library, a theatre, a laboratory, and a management building will offer a holistic opportunity for growth and development.
The newly inaugurated school offers a safe and secure learning environment that caters to the educational needs of girls. It provides boarding facilities and a library to girls from the refugee and hosting communities who face various social challenges such as early or forced marriage, child labour, unaccompanied minors, separated children, and disabled girls. Moreover, the school addresses the high demand for education as Kakuma camp and Kalobeyei Integrated Settlement have a population of over 196,666 registered refugees and asylum-seekers.
During the visit, HH Sheikh Sultan bin Ahmed Al Qasimi and TBHF Humanitarian Envoy and the accompanying delegation were briefed on the school's significance and its impact on the lives of girls. Settlement officials praised TBHF's vision and firm belief that education is the strongest tool for girl empowerment, particularly for refugee girls, as it improves the livelihood and quality of life of all communities. The management highlighted that girl students in the Turkana County region, where Kakuma camp and Kalobeyei settlement are located, account for almost 25% of the overall enrollment. They emphasised that the school would provide these girls with the opportunity to access education, overcome the challenges they face and improve their livelihood and quality of life.
"The advancement of the education system and investment in knowledge infrastructure is one of the key pillars of the UAE's vision. It is a key factor of Sharjah's identity and cultural project. This is why the focus on educational humanitarian projects has been a top priority in Sharjah's efforts at the regional and global levels, in line with the vision of His Highness Sheikh Dr. Sultan bin Mohammed AlQasimi, Member of the Supreme Council and Ruler of Sharjah, who believes that making positive change in society starts with enhancing the foundations and methods of education. Well-educated human capital is capable of making an essential difference and shaping the future of society and the nation," said His Highness the Deputy Ruler of Sharjah.
"Investing in education is a credible path to achieve a significant transformation in the lives of refugees and displaced persons worldwide. That is why sustainable education is a central strategic pillar in TBHF's humanitarian projects, and this is what we are witnessing today at the inauguration of The Big Heart Secondary School for Girls in Kalobeyei Settlement. With the unwavering support and under the directives of Her Highness Sheikha Jawaher bint Mohammed Al Qasimi, wife of His Highness the Ruler of Sharjah, Chairperson of The Big Heart Foundation and UNHCR Eminent Advocate for Refugee Children, the Foundation's aspiration has provided long-term solutions for less fortunate communities in Kenya. The implementation of this approach strikes a balance between providing immediate relief aid on the one hand, and assistance that targets the underlying infrastructure and focuses on sustainable sectors on the other," His Highness the Deputy Ruler of Sharjah added.
In the region where The Big Heart Secondary School for Girls has been established, there currently exist 26 primary schools and seven secondary schools, which collectively cater to the educational needs of 13,000 students. The secondary schools include a boarding school for girls in Kakuma camp and another non-boarding school for girls in Kalobeyei Settlement. In 2019, over 400 girls submitted applications for admission to the school, but due to spatial constraints, only 90 students could be accommodated. The newly established school is expected to increase the capacity and facilitate greater accessibility to secondary education, thereby creating more opportunities for young girls to acquire knowledge, skills and improve their life prospects.
Home
>>
Government, Legal & Humanity Section