Home
>>
Technology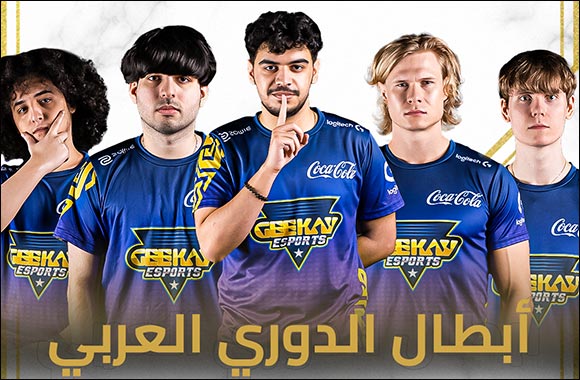 The Arabian League Spring Split Finals Crowns the Champion Geekay Esports
Geekay Esports take down Team RA'AD and are the champions of the inaugural split of the Arabian League.
United Arab Emirates, 4th of April 2023: Calyx, the leading esports and production company in MENA, has successfully concluded the Spring Split finals of the inaugural Arabian League - League of Legends tournament in Abu Dhabi on the 30th of March, backed by Riot Games and sponsored by CLEAR.
As part of the EMEA ERL system, the Arabian league featured 16 teams over 2 divisions. The 1st Division showcased a hard-fought 8 week long season that saw some of the best League of Legends players in MENA face each other to secure their entry into the EMEA Masters.

The Arabian League as a whole was received extremely positively by teams, players, fans, and Esports enthusiasts in the region. Featuring a tournament system that focuses on the development of LoL Esports across the region via a progression system that incentivizes the cream of the crop to rise through the ranks and divisions of the league, the Spring Split of the Arabian League was a resounding success.

Broadcasts catered to an average of 5600 Unique Viewers each day, with over 520,000 Viewers reached over 18 days of broadcast, considering both official streams and Watch parties. With nearly 600 hours of airtime, Arabian League content dominated the LoL Arabia ecosystem, featuring an all-time peak of 7560 viewers and over 1.1M views across the 3 major streaming platforms, namely Twitch, Youtube, and Facebook.

Geekay Esports dominated throughout the Regular season and secured first place, while Team RA'AD, Triple Esports, Fox Gaming, and Nigma Galaxy followed closely behind. The Regular season ended with Geekay Esports, Team RA'AD, Triple Esports, and Nigma Galaxy securing the playoffs spots.
After an intense playoffs season, Geekay Esports and Team RA'AD came out on top, securing their spot in the Arabian League Spring Split Finals and EMEA Masters Spring Split.

With the EMEA Masters around the corner, the two teams faced off against each other at Pixoul Gaming, one of the leading arenas in Abu Dhabi. In the end, Geekay Esports was crowned the Arabian League Spring Split champion and will claim the lion's share of the 40,000 USD prize pool.
With the Summer Split of Arabian League set for June 2023, Calyx is now focused on improvements that build on the audience experience as they aim to set a new standard for LoL tournaments and broadcasts in the region
Home
>>
Technology Section