Home
>>
Healthcare & Medicine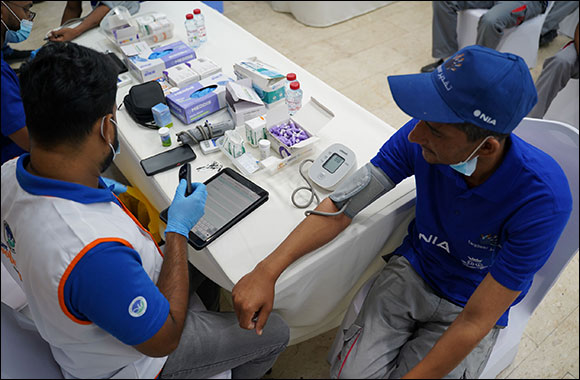 Taqdeer Award and Dubai Health Authority Campaign for Early Detection of Preventive Diseases
The program covers over 900 workers from 100 companies
Major-General Obaid bin Suroor: We seek to enhance the health of our workers and make preventive healthcare knowledge a way of life
Dr. Ramadan Al Balushi: The campaign contributes towards realizing the vision of a healthier and happier society

Dubai - United Arab Emirates - May 3, 2023 - Taqdeer Award, which is held under the patronage of His Highness Sheikh Hamdan bin Mohammed bin Rashid Al Maktoum, Crown Prince of Dubai and Chairman of The Executive Council, with the support of the Dubai Health Authority, has launched a wide campaign for the early detection of preventable diseases targeting 900 workers in more than 100 distinguished companies that won the Award in its last cycle.
The initiative, which will continue until May 17 at the headquarters of the Permanent Committee for Labour Affairs in Dubai, will be over three stages with different medical specializations.

His Excellency Major-General Obaid Muhair bin Surour, Deputy Director-General of the General Directorate of Residency and Foreigners Affairs in Dubai, Chairman of the Permanent Committee for Labour Affairs in Dubai and Chairman of the Taqdeer Award, said: "This initiative comes within our plans to spread health awareness among the workers and adopt early detection as a way of life to preserve their health and safety. We are stressing the importance of enhancing the health of our workers and promoting preventive health knowledge culture for a better quality of life for them and their families."
He praised the support of the Dubai Health Authority and its provision of medical and technical support for the initiative to be successful to the fullest extent. It is providing a group of doctors and nurses to conduct medical examinations on more than 900 workers of different ages and job categories. The results of the medical examinations will allow workers to identify their health conditions, and take appropriate procedures, examinations and treatments in the case of discovering any symptoms or chances of contracting diseases like blood pressure, diabetes, cholesterol, poor eyesight and other diseases, to avoid their negative complications.

Dr. Ramadan Al Balushi, Director of the Public Health Protection Department at the Dubai Health Authority, stressed the importance of the initiative which aims at the early detection of various diseases among the labour community and raising awareness about the risk factors and how to prevent the diseases and reduce their risks, and also to maintain the health and safety of the community members.

He praised the cooperation of all the participating organizations in the campaign which enhances the DHA's efforts and contributes towards achieving its vision have a healthier and happier society. He stressed its commitment and continuous support for such health programs and campaigns that aim at the early detection of diseases.
The first phase, involving 300 workers, will start today, with the medical team of the Dubai Health Authority conducting preliminary checks on workers for diabetes, blood pressure and cholesterol, in addition to eyesight examinations and oral and dental health. The activities of the second phase will start on May 11 and the third on May 17, covering more than 600 workers.
Home
>>
Healthcare & Medicine Section