Home
>>
Banking & Investments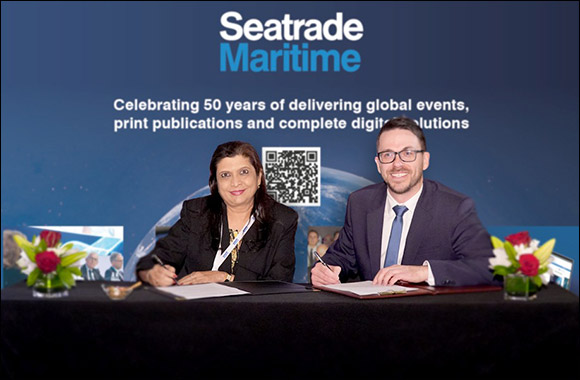 Seatrade Maritime Collaborates with DSAA to Reinforce the Development of Dubai's Shipping Industry
The objective of the partnership is to assist in achieving mutual objectives, such as advancing the interests of the community of shipping agents
Dubai, United Arab Emirates – 5th March 2023: Seatrade Maritime and the Dubai Shipping Agents Association (DSAA) have signed a Memorandum of Understanding (MoU), aimed at supporting and promoting shared objectives. The main goal of the MoU is to advance the growth and development of the shipping industry in the region, by promoting the interests of the shipping agents' community in Dubai, raising standards in the sector, fostering stronger relationships, increasing cooperation between key stakeholders, and promoting the systematic and orderly training of professionally-qualified personnel.
As part of the agreement, Seatrade Maritime will provide the DSAA with the status of 'Supporting Organisation' for the Seatrade Maritime Logistics Middle East conference, the leading regional event for the logistics and maritime industries, scheduled to be held at the Dubai World Trade Centre from 16 to 18 May, 2023. This will help to promote the work of the DSAA to Seatrade's audience and provide the association with greater exposure to potential clients.
Connecting with a large audience
Commenting on the partnership, Nayana Nandkumar, Manager, DSAA said: 'We are delighted to partner with Seatrade Maritime. This alliance will enable us to expand our reach and promote our services to the massive audience that connects with Seatrade Maritime. We also look forward to working together to support the growth and development of the maritime industry in Dubai and the wider region. This collaboration demonstrates our dedication to promoting the interests of the Dubai community of shipping agents. To accomplish our common goals, we look forward to working closely with Seatrade Maritime."
By having shipping agencies represented at significant think tank events, the cooperation with Seatrade Maritime will also help DSAA advance its goals of promoting the shipping sector. Together with the appropriate government agencies, it will help DSAA maintain its efforts to strengthen industry standards. The alliance will also improve and deepen the connections and teamwork between shipping agents, principals, shippers, customs officials, and other governmental, national, and international trade organisations.
Representing everyone
Emma Howell, Middle East Development Director, Informa Markets Maritime & Cruise portfolio said: "DSAA has played a vital role in the development of the maritime industry in Dubai, which is critical to the UAE's economy, and we look forward to supporting their mission through our platform. We believe Seatrade Maritime Logistics Middle East will provide a forum for participants from diverse industrial sectors to network and share ideas, thereby contributing positively to the development of the maritime industry in the region. The partnership with DSAA is a testament to Seatrade Maritime's commitment to promoting collaboration and innovation, and ensuring that its events serve as a platform for stakeholders to help in driving the sector forward."
Chris Morley, Group Director, Seatrade Maritime said: "Seatrade Maritime's partnership with the DSAA is aimed at ensuring that the events we organise, such as the Seatrade Maritime Logistics Middle East conference, are inclusive and cater to the objectives of multiple sub-sectors of the regional maritime community. Our conference will provide a platform for participants from various segments of the industry to interact and exchange ideas. The partnership with DSAA will enhance the value proposition of Seatrade Maritime's events and it will ensure that we remain beneficial to all stakeholders in the maritime industry."
Home
>>
Banking & Investments Section